Kinghorn Community Centre
Welcome to Kinghorn Community Centre
Kinghorn Community Centre is run by a voluntary Management Committee on behalf of Fife Council. The Centre is a purpose built facility accommodating various sports groups and social activities. The Centre is the hub of the community. The centre is accessible to all. Disabled access and facilities are available.
---
Funding
The Community Centre is a non-profit making organisation. We raise funds in the local community holding numerous fundraising events throughout the year. Our main fundraiser is our 50-50 Club. You can help us raise funds to keep the Community Centre going strong by buying shares in our 50-50 Club. The shares cost £2 per month paid by standing order. 50% of the money taken in is paid back out in prizes and the other 50% goes to the centre's funds. If you are interested in joining please contact the Community Centre.
---
Contact Kinghorn Community Centre on: 01592 890149 or 'Like' us on Facebook for the most up-to-date information.
---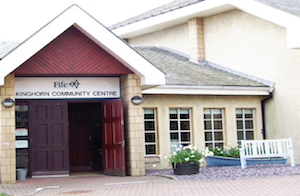 Copyright statement & Disclaimer statement. Charity number - SCO11592